CURRICULUM REVIEW WORKSHOP 26TH TO 29TH JANUARY 2016 AT (CCU)
Read more...
Mentoring UON Students Presantation
Read more...
CURRICULUM REVIEW WORKSHOP KICKS OFF
Read more...
Somalia Students visits Dean School of Education and the Department of Educational and Admnistrationa planning
Read more...
Dr. Mohamed Ahmed Jimale, Rector of Somali National University visits the Department
Dr. Riechi a Guest of Honour at Riara University Journal of Education Launch
Academic Trip to Rwanda for Master of Education (Education in Emergencies) Students
Education Trip to Rwanda with M.Ed Students
1st Annual International Conference on Research and Innovation in Education
Read more...
University of Nairobi 9th Open Day
Dr. Jeremiah M. Kalai (seated Right) engage with a potential student during the Open Day
Read more...
DEPARTMENTAL THESIS PROPOSAL DEFENCES
Submitted by teresahmbugua on Fri, 2016-02-05 17:09
Location / Venue:
School of Education, CEES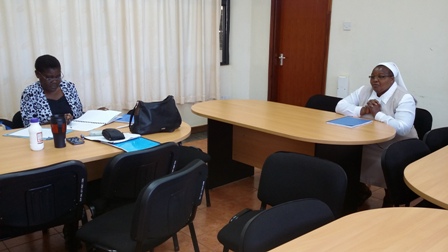 The Department of Education, Administration and Planning on 5th February 2016 held a series of PhD and Doctoral defenses for thesis Proposal at departmental level. A total of 8 students defended their thesis proposals, of which 7 students are pursuing Doctor of Education and 1 pursuing Doctor of Philosophy Degree in Education.
The students at this stage defend their proposals at department level before they can proceed to the School of Education level and eventually to the Board of Post Graduate Studies.
The panel assessing the students comprised of various lecturers based on their areas of specialization, mainly educational Administartion and Educational Planning.
(Pictured: Jotham Micheni Hezekiah defends his Proposal to the panel.looking on are Dr. Rose and Dr. Loise Gichuhi )
List of PhD students defending their Thesis proposal